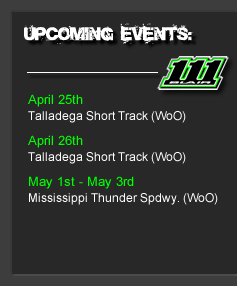 July 20, 2014

Max Blair Pulls Off Double Wins at Eriez Speedway

Max Blair led every lap of the Super Late Model feature for his second win of the season in the top division, then got in his Crate Late Model, started sixth, took over the lead at fourteen laps and went on to his fourth win in that class.

Full Story...

July 12, 2014

Max Blair Gets the Nightly Double! Wins both Super Late Models and Crate Late Models!

In feature action, Max Blair completed the "Nightly Double", triumphing in both the super Late Model and Crate Late Model features. In the Super Late Model finale, the younger Blair led every lap, but in the Crate Late Model feature waited until the final turn to get take over the front spot from Scott Gurdak, who had led from the drop of the green.

Full Story...

July 9, 2014

Max Blair Flies to 1st Sweeney RUSH Late Model Tour Win of 2014 at Expo Speedway

Making just his second Sweeney Tour start of 2014, Max Blair put on a dominating effort in the 25-lap RUSH Late Model feature for his first Tour win of the season. Blair led the first seven laps then waited out a lengthy rain delay before pulling away in the second half of the event for his third career Expo win in seven years, worth $2,000.

Full Story...

July 5, 2014

Blair wins 'Papa' Don Frank Memorial to Open New Era at Stateline

One of the largest crowds in Stateline's 58-year history filled the newly-rebuilt bleachers, which can hold 5,850 fans plus countless fans standing against the fencing. At the end of the 'Papa' Don Frank Memorial presented by Carter Lumber, it was Titusville, Pa.'s Robbie Blair at the front of the pack with Chub Frank winding up second and Mike Knight third.

Full Story...