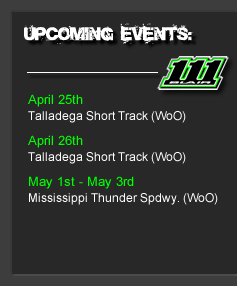 June 12, 2015

Max Blair Wins "Bill Hendren Memorial" Qualifier at Winchester Speedway!


In the second "Bill Hendren Memorial" Qualifier, Max Blair continued his hot streak on the Series picking up the $1,000 win.  Blair, who has his sights set on the $10,000 Sweeney Touring Series sweep, put himself in good position for Saturday's $6,000 main by earning the outside pole starting spot.


Full Story...

June 7, 2015

Max Blair Wins 3rd Tour Event In 6 Starts In 2015 With Eriez Sweeney RUSH Late Model Victory As He Keeps His Eye On The $10,000 PRIZE!


Max Blair redrew the pole position for the 25-lap, $1,200 to-win feature at his home track and went unchallenged for his third Touring Series win in six races this season.  Blair continues to lead both the $4,000 to-win Northern and Bazell/Sunoco Southern Tour points in addition to the $2,000 to-win combined title.


Full Story...

June 7, 2015

Max Blair Captures RUSH Touring Event and Super Late Model Feature at Eriez Speedway!




The first of two RUSH Touring events for the Bonnell Collision Center Crate Late Models was run Sunday with Max Blair leading all twenty five laps. Blair then drew the pole starting spot for the Jay's Auto Wrecking Super Late Model feature and dominated that event, leading every lap.


Full Story...

May 30, 2015

Max Blair Wins $2K for His First ULMS Super Late Feature




The ULMS Super Late Model Series returned to Sharon on Saturday night after a two-year absence, and while Max Blair may have been a familiar face in victory lane, it was his first ever in the Super Late Models at Sharon and first career win in ULMS.


Full Story...