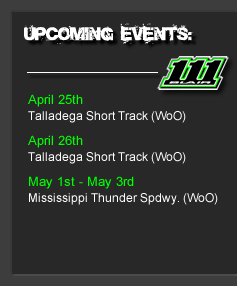 April 18, 2015

Max Blair Makes Late Charge to Power to Opening Sweeney RUSH Late Model Bazell/Sunocoi Southern Tour Win at Roaring Knob


After young Garett Paugh of West Virginia and New York's Brian Knowles traded the lead early on, Blair found moisture on the top and rode it to the lead on lap 17.  Once in front and without a caution to slow action, Blair pulled away from the field to capture the $1,200 win.

Full Story...

February 7, 2015

Max Blair Wins Final Night And Takes Home $3,000 Payday At East Bay Raceway Park's Crate Late Model Winternationals


Max Blair, out of Centerville, Pennsylvania, has been coming to the races at East Bay Raceway Park since he was a little kid tagging along with his father, but this year it was different. The 25 year old driver brought his Crate Late Model with him and won two of the three races in the 39th Annual Winternationals Anniversary year including Saturday's 50 lapper, $3,000 to win event.

Full Story...

February 6, 2015

Max Blair Wins In First Time To East Bay Raceway Park On Night 2 For Crate Late Models Winternationals Win


Max Blair would hold off stiff challenges from Doug Horton to claim his first ever Winternationals victory at East Bay Raceway Park.

Full Story...

January 29, 2015
Blair Outlasts Leaking Tire for NeSmith Late Model Win
Max Blair of Centerville, PA had to outrun the competition and a leaking right-rear tire to win the 50-lap main event on Thursday night for the NeSmith Chevrolet Dirt Late Model Series in the Rock Auto.com Winternationals at Bubba Raceway Park. Blair drove the R&J Poultry Rocket to the $2,500 win and the NeSmith Late Model point lead.
Full Story...