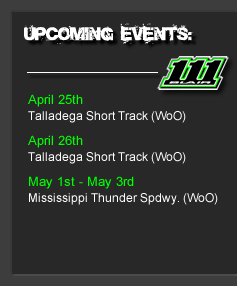 November 23, 2013

Eriez Speedway Honors Champions - Rob Blair Named
Driver of the Year

Eriez Speedway fans and teams gathered at the Courtyard by Marriott in Erie for the annual Awards Banquet with the top ten in each division being honored and several special awards presented. The evening was capped off with Rob Blair being recognized as Eriez Speeday's Driver of the Year.

Full Story...



November 19, 2013

Kennedy Motorsports Adds Max Blair to 2014 Stable!

Kennedy Motorsports and team owner John Kennedy would like to welcome multi-time crate late model champion, Max Blair of Titusville, PA to the Kennedy Motorsports Team for the 2014 season.

Full Story...

September 25, 2013

Max Blair Defends His Home Turf Winning McKean's "Fall Classic" Finale

On Sunday afternoon, Max Blair brought down the curtain on McKean's season with his fourth Tour win of the season. Blair passed nemesis Mike Pegher, Jr. with nine laps to go to claim the $1,500 victory- the 10th of the season for him at the East Smethport, Pa. oval.

Full Story...

September 14, 2013
Max Blair Steals $2000 From Pegher in Sweeney RUSH Late Model Tour Thriller at Sharon Speedway!
After running around the fourth and fifth positions for much of the race, Max Blair stole the $2,000 win away from nemesis Mike Pegher, Jr. on a late race restart for his third Sweeney Tour win of the season. Full Story...